The Kacmarcik Center for Human Performance Officially Opens its Doors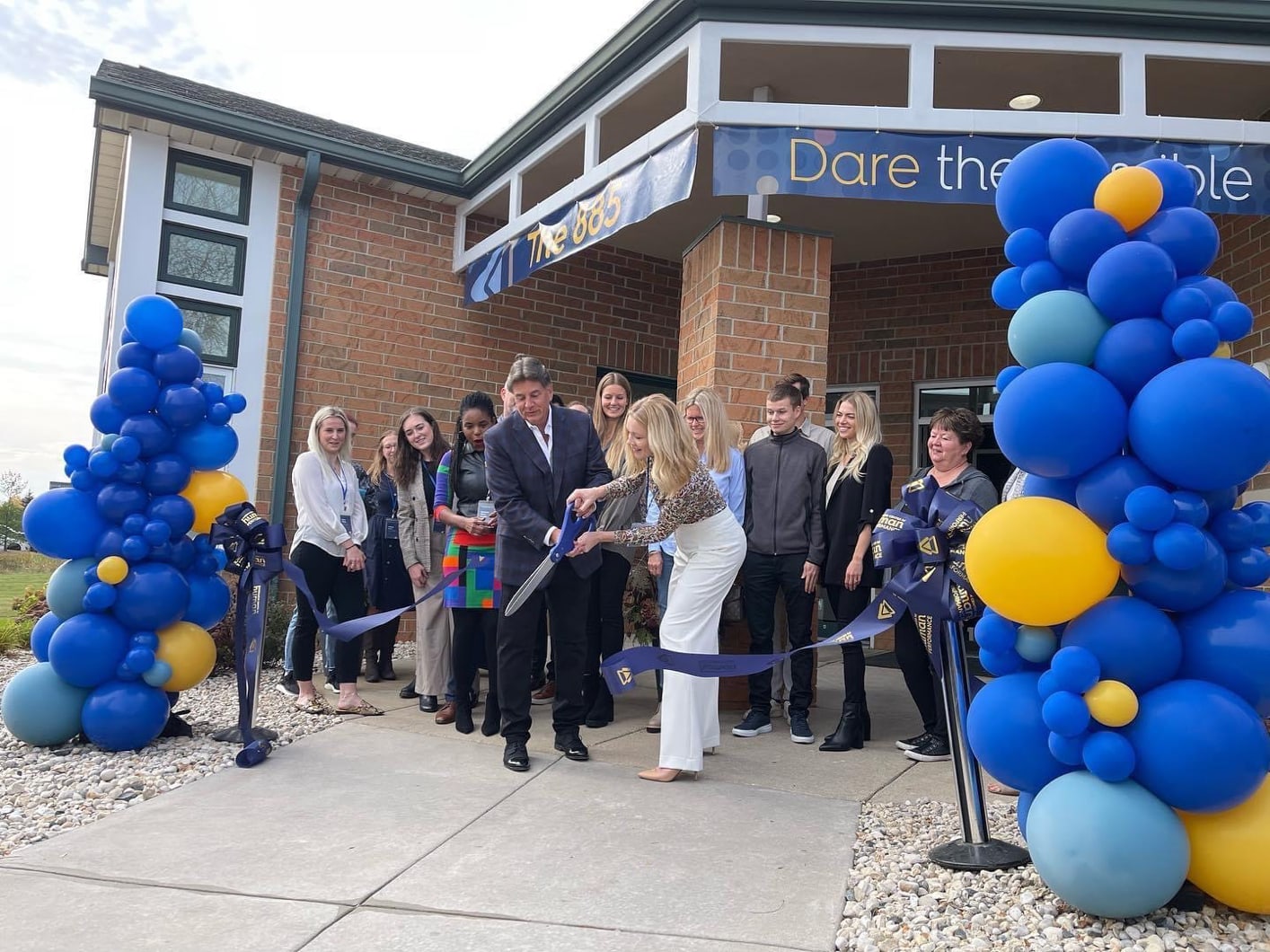 Ribbon Cutting draws crowd, as the KCHP officially opens
On Monday, Oct. 24, The team at the Kacmarcik Center for Human Performance (KCHP) officially opened the doors of its state-of-the-art facility at 885 Badger Circle in Grafton – a landmark event launching the company's mission to empower and inspire its own workers – and the community at large – to live a life of potential and purpose.
"The Kacmarcik Center for Human Performance is about to be opened. And so too are the hearts and minds of everybody who walks into this building," said Kacmarcik Enterprises owner and CEO Jim Kacmarcik.
"They're going to walk thru the doors behind me, and they're going to meet an incredible staff that is well trained – top of the line," Kacmarcik said just before the ribbon cutting at 10:30 a.m. on a beautiful fall Monday morning. "And they'll take something as they leave this building. They'll take inspiration. They'll take knowledge. They'll take hopes. And their dreams will become bigger, bolder, and brighter."
The Plan
Kacmarcik was clearly moved at the realization of his dream and said the event was the result of countless days of dreaming and planning.
"This has been something that I've wanted to do for a long period of time," Kacmarcik told the gathered crowd. "You know, I've been trying to figure out, later in my career – the last chapter I suppose – what I might do – what I might leave … but it didn't take too long for me to realize that where my mind was, where my dreams and my hopes were … would require something more than just a handful of teammates at our company trying to lean into some industrial training. It would take a little bit more."
To put his dream into action, Kacmarcik said he hired Gretchen Jameson, Ed.D., Chief Learning Officer and Group President for Social Impact at Kacmarcik Enterprises.
"And as it turns out, it was an invitation that was ultimately too good to pass up," Jameson said in her welcome address. "And let me tell you, when it comes to this idea of the mission we're celebrating here – the vision of a better world where every person can pursue their very best future toward a common good – Jim Kacmarcik is all in. And Jim, if you look around, I think you've got some people with you."
The Mission
The mission of the Kacmarcik Center for Human Performance is to transform lives through learning that develops well-being and centers on people. The company applies this principle first to its teammates and coworkers across the Kacmarcik Enterprise family of companies, but the mission also encompasses the folks in the surrounding neighborhoods and community.
"So if you think of a pie and you think of a big slice of it … yes indeed, it includes industrial training and helping people in our organizations flourish through their careers, learn different skills, get stronger pay, but more importantly – and more daring, I submit … we're talking to these people. We're asking them what they want to do. If one would say, "I want to be a chef someday." The Kacmarcik center for Human Performance will help them with their dreams."
The People
One of the guest speakers at the opening ceremony was Sapphire Peters, a second-generation Kapco teammate who works as a resistance welder. "Since the beginning I've seen the potential that comes with the versatility of this training," said Peters, who was part of the KCHP's first ever round of blūprint classes, designed for the workers of Kacmarcik Enterprises. "What I imagined doesn't even begin to cover everything that they are offering today. We are so blessed to have education be such a high priority for this company and community."
The Impression
After a brief program, Kacmarcik and Jameson cut the ribbon across the entryway of The 885, announcing the facility's official opening. The participants then moved inside for tours and a light brunch.
Visitors to The 885 included Matt Burrow, CEO of Catalyst Construction, the contractor in charge of the renovation of the facility.
"It's an absolute blessing to be able to play a small role in (Jim Kacmarcik's) dream," Burrow said. "It's life changing. For everybody. And it's what we need more of in this world."
Janette Braverman, Executive Director of External Partnerships at Cardinal Stritch University, was also impressed by both the facility and the mission of the KCHP.
"Just the fact that their employees can benefit from something like this … who does that?" Braverman laughed. "The fact that Jim Kacmarcik is so thoughtful about helping his employees really get to that next level … that goes a long way."
Wisconsin State Senator Duey Stroebel, District 20, R-Cedarburg, was also present at the event and enjoyed a tour of the new facility.
"It's incredibly impressive," Stroebel said. "I can't wait to see the results of its work. Building people, maximizing their potential … there can't be a much better concept than that. I think it could have a big effect on the community. When you can raise people up and they can have a better opportunity to maximize their potential. It's good for everybody. Good for them and good for the community."
Others echoed that sentiment, saying that they were excited to see such a unique organization set up shop in this community.
"I've never seen anything like KCHP all across Wisconsin and I'm a community leader," Braverman said. "To see something like this come to life is a big deal."
Kacmarcik is also thrilled to see his dream realized, and can't wait to positively impact the community he serves.
"For the rest of my life, I'm going to lean into the Kacmarcik Center for Human Performance," Kacmarcik said. "I'm going to do what I can with an incredible group of people. And help tens of thousands of people in a way they've never imagined."
CLICK HERE to find out more about the Kacmarcik Center for Human Performance.