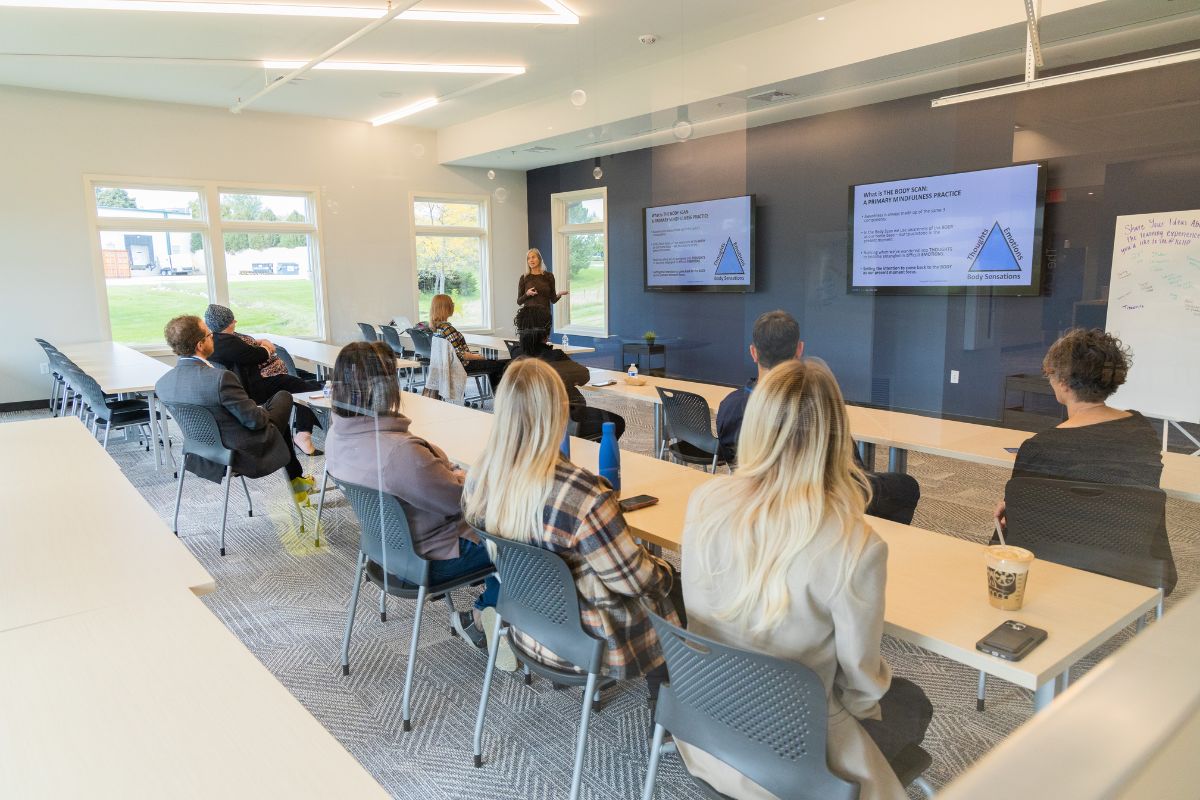 Greetings, from the Kacmarcik Center for Human Performance (KCHP). We're new in town, and we're delighted to meet you. Like any new endeavor, we know there is curiosity about what the KCHP does.
So, without further ado, here are a handful of our most frequently asked questions.

"What is it that you DO exactly?"
In a recent article with BizTimes Milwaukee, our Chief Learning Officer said it like this: "We are purveyors of an idea. And that's inherently messy."
Interesting, right? Let's unpack that a bit:
"In the simplest sense, we help people achieve the best version of themselves through learning that specifically drives well-being," said Gretchen Jameson, Ed.D., Chief Learning Officer and Group President for Social Impact at Kacmarcik Enterprises.
Like many great enterprises, the KCHP started with an idea. That idea was that every person deserves to reach their full potential.
This is the idea that inspired Chairman and CEO Jim Kacmarcik to open the doors of the 885 building — the KCHP's "hubquarters." And in the world of industrial manufacturing — which is one of the legacy businesses within the Kacmarcik Enterprises portfolio of companies — while it's not unusual to put your people "first," it's unique to lean into their well-being as much — if not more than — their job skill training.
But, beyond the corporate learning and development we provide for our family of companies, the KCHP also delivers well-being products and services to benefit individuals and organizations and is deeply committed to ensuring all of our work spins out to create maximum social impact.

"You care about people's well-being … but HOW do you do that?"
Of course, we serve Kacmarcik Enterprises employees; offering them learning and development opportunities so that they can chase their dreams and achieve their goals. But beyond that, there are two other ways that we make an impact:

1. We work with your organization
If you're interested in developing your employees' well-being, performance, learning goals, or specific performance needs, our team creates learning solutions to help you accomplish this.
"We work with organizations that are interested in helping their people perform at the highest level," Jameson said.
Through our unique gap analysis approach, we can help your team figure out its strengths and weaknesses and find the best path forward, to reach your goal and unlock your full potential. 
CLICK HERE to learn more about the various workshops, retreats, and resources we offer organizations just like yours.

2. We work with the community
"We have a special interest in taking everything that we develop for organizations and figuring out ways to make those programs available to anyone who has an interest in developing their well-being … but especially folks in our community who don't always have access to that kind of support for their performance," Jameson said.
By "performance" we mean careers — of course — but we also mean life in general.
"It's an array of things in that space of human flourishing," Jameson said. "Work is just part of what we do."
As the center really gets going, the mission will include working in tandem (not in competition) with like-minded non-profit organizations to team up and strategically serve people throughout the community.
"We're going to focus on the providers for the people who need our services," Jameson said. "We want to partner up with strategic nonprofit, community partners who are serving pockets of people … and help organizations and people be at their very best."
In Southeast Wisconsin, the Kacmarcik name is synonymous with Kapco Metal Stamping and, more recently, with the exciting new development of the Iron District in downtown Milwaukee. People might wonder why CEO Jim Kacmarcik bothers about the well-being of his workers and his community. 
"We just want to take an opportunity to really look inside the heart and soul of every person that works with us and try to figure out how we as an organization can impact their lives," Kacmarcik said.
"In its simplest sense … our mission is for other people," Jameson added. "That's what makes it confusing for some. Other companies don't do that.
"At the heart of it, we're helping people live their best life so they can flourish. And we're doing it through learning. You don't normally see organizations, outside of a school or college setting, invest in learning at this deep of a level. It's absolutely a difference maker."

"You work with organizations to help them maximize their potential? But does this actually work?"
It really does. 
 
Dr. Jameson developed her methodology during her years of study in the doctoral program for Organizational Change and Leadership at the University of Southern California. The research is peer reviewed and proven. But while that sort of evidence makes academic people giddy, we are already seeing other clear, practical examples of our results. 
Even though we've just opened our doors, we've been part of some exciting partnerships and have recently experienced some amazing results with Milwaukee Bucks Gaming, who took home the NBA2K League Championship trophy in August. Our case study detailing the results of our partnership with this incredible organization will be released later this month.
Then, there's the work happening within the walls at Kapco Metal Stamping, where a completely reimagined approach to new hire learning is yielding significant results in terms of worker motivation.
"Learning is not an event, and it's not one-dimensional. In fact, life is full of unique learning opportunities," said Marlena Ward-Dodds, Ed.D., Managing Director of Learning and Development. "It has been fascinating to help our learners explore their individual learning preferences and witness the excitement about growing professionally and personally. I love watching them embrace their journey to becoming life-long learners."

"Where are you located?"
Our "hubquarters" is at 885 Badger Circle in Grafton. This is where a lot of our work takes place, but we can also be found in the community and at area businesses.  
"We will offer a lot of programming in the Milwaukee city area, especially as Kacmarcik Enterprises opens its new Iron District in the next year and a half," Jameson said. "When we partner with people — and we do a lot of programming with our partners — we'll be meeting people where they are."

"You keep mentioning 'flourishing.' Why is it important to flourish?"
"We believe that people are created to flourish and that there's a calling in that for us — there's a dignity in helping every person develop into the best version of themselves," Jameson said. "Every person deserves an opportunity to achieve that.
"In this world, the deck is stacked against us. So, it's important that flourishing happens. Then we go beyond that. As part of our mission, we believe in a better world where every person can pursue their best future toward the common good. People need to flourish … our communities depend on it."

"I'm intrigued. How can I learn more?"
Are you curious? We bet you are! To find out more about how we can help you or your team achieve your possible, CLICK HERE to contact us and we'll be in touch.
"We believe that every person has potential beyond what they ever conceived about themselves," said Michael Sapiro, Managing Director of Business Development. "We are here to make that potential possible. Connect with us to see how we can help with your goals."