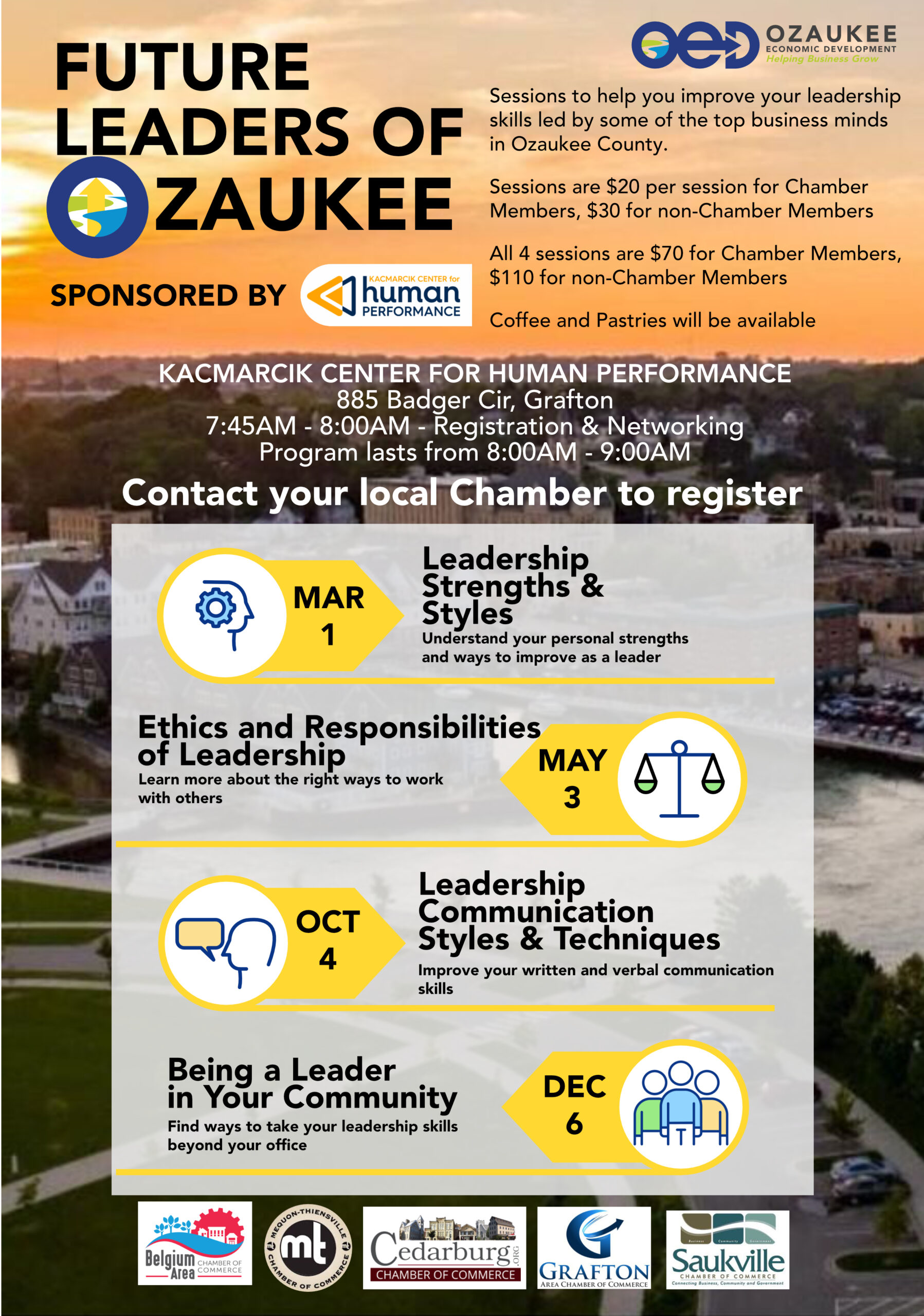 The Kacmarcik Center for Human Performance is proud to sponsor the "Future Leaders of Ozaukee" series in 2023 in conjunction with Ozaukee Economic Development and several local chambers of commerce.
"We are excited to offer this opportunity for businesses to improve their workforce by providing leadership training," says Kathleen Cady Schilling, Executive Director of Ozaukee Economic Development. "We are thrilled to partner with the Kacmarcik Center for Human Performance. Having this great facility and highly-skilled trainers within our community, it made total sense to partner with them and allow our business community the opportunity to experience what they have to offer."
The leadership series includes four educational workshops developed by KCHP Chief Learning Officer, Dr. Gretchen Jameson and designed to enhance attendees' leadership skills. Topics include:
March 1: Leadership Strengths & Styles: Are you the kind of leader you would follow? Participants will examine concepts about the major styles of leadership and complete a self-analysis instrument to better understand how personality and strengths shape leadership style.


May 3: Ethics and Responsibilities of Leadership: Ethical behavior can make or break a leader's career. Participants will better understand ethics through analysis of authentic ethical dilemmas and learn to recognize the 7 Steps of the PLUS Ethical Decision-Making Model.


Oct. 4: Leadership Communication Styles & Techniques: This highly interactive session is team-led by leadership and communications/theater experts. Explore and rehearse the communication strategies that leaders use to facilitate positive change in their organizations.


Dec. 6: Being a Leader in Your Community: Leadership is more than a title. Reflect on leadership through the first-hand experiences of notable local and regional leaders for whom leadership is not about the title, but about the calling.
The sessions cost $20 for Chamber members or $30 for non-members; all four sessions are $70 for Chamber members or $110 for non-members. The sessions will be led by business leaders at the Kacmarcik Center for Human Performance, 885 Badger Circle, in Grafton.
"I believe that this series will be a great opportunity for our future leaders, and even current leaders to develop their skills," says Pam King, Executive Director of the Grafton Area Chamber of Commerce. "These types of programs help develop leaders, which in turn strengthens organizations and our communities as a whole."
"This partnership lands right in the heart of our wheelhouse," Dr. Jameson explains. "Our mission is developing people through inspired learning experiences that accelerate performance and transform potential. Join us, and you will receive so much more than an hour of content. And we truly applaud the OED and local chambers for putting this program forward. Giving county leaders a place for reflection and growth not only equips each individual for better and better leadership, collectively we can improve our community."
The program is being offered through the joint efforts of the Kacmarcik Center for Human Performance, Ozaukee Economic Development, the Belgium Area Chamber of Commerce, the Cedarburg Area Chamber of Commerce, the Grafton Area Chamber of Commerce, the Mequon-Thiensville Chamber of Commerce, and the Saukville Chamber of Commerce. It is open to the public.
Interested in attending? Registration and networking will begin at 7:45 a.m. on the day of each event, with the program running from 8-9 a.m. Contact your local Chamber of Commerce to register today.