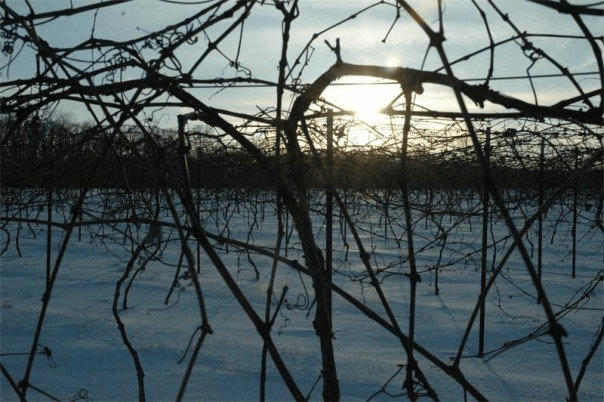 Why Robert Frost's Advice — "Goodbye and
Keep Cold" — is Imperative Today
When 20-year seasoned vintner Edmund Staude saw the temperatures rising early one spring in Missouri, he was concerned about his vineyard. The 50-degree spike was much too early. And sure enough, it was followed by three days of 16-degree weather.
One might look at grape vines at this time of year and think nothing much is afoot—no life, no growth, just bare branches. But the sap had rushed up in anticipation of warmth only to plunge back down into the plant during the cold. A catastrophe.
"The casual observer would have thought nothing was happening," Staude says. "But that deep frost … it just killed them. And we lost a number of plants."
This serves as a vivid example of the importance of seasons in our lives … and how messy things can get when we push a season into the red zone by over- or under-working it. Like the vines—out of which the sap literally exploded out of the bark, causing scars or killing the plant—we can seriously devastate our own flourishing when we charge like a bull into a season of our life that demands quiet intentionality and mindfulness.
The point is illustrated by a famous Robert Frost poem, "Good-by and Keep Cold." Written 100 years ago, the poet talks about his worry over his orchard in winter, and the damage the sun and warmth can do during this delicate season:
"No orchard's the worse for the wintriest storm;
But one thing about it, it mustn't get warm.
How often already you've had to be told,
Keep cold, young orchard. Good-by and keep cold."
Keeping cold is imperative for plants during this season. And if we flourish—not unlike plants—are we really all that different? Certainly not. We must tend to our own health in every season. And taking the season into account is pivotal to achieving our full potential.
"Just because everything is dark and still, doesn't mean you're not doing really important work," says Gretchen Jameson, Chief Learning Officer and Group President for Social Impact at Kacmarcik Enterprises. "Most people would say 'that vine is not doing anything.' Wrong. Or 'that vine is sleeping.' Wrong. It's hibernating. It's slowed down. It's gone into itself. And all kinds of amazing work are going on in those vines." 
Like hibernating vines, we too can use this season to our advantage through small actions that might seem almost meaningless, but which feed our soul during this quiet, cold time.
"The winters are long and overcast where I live near the northern shore of Lake Michigan," says Licensed Clinical Social Worker Heidi Goehmann. "The blanket of cloud cover adds to the heaviness of spirit that can come with long winter months with very little sunlight. I practice gratitude around the smallest details during these months to help me see past the clouds. I buy special foods and make new recipes, taking time to eat them and appreciating the different flavors and textures. I also practice gratitude every time I pick up my book, saying a quiet or silent thank you for more time to read during the wintering season."
As with plants, winter is an intentional time for us to slow down, rest, recoup our strength, and prepare for the busier seasons ahead of us.
This is integral to our survival.
Experts at the Horticultural Therapy Institute say, "There is of course another side to winter, one that nature demonstrates exceptionally well. In the plant world, this season of darkness is welcomed as an essential period of rest and restoration. For humankind, health is dependent upon good sleep habits and adequate rest. Without it we quickly become dysfunctional both physically and socially."
But wintering and finding rest in a meaningful fashion doesn't always align with the pull of the world. It's ironic that this season of quiet reflection has now been taken over by the riot and stress that encompasses New Year's resolutions. Don't rest, says the world … improve yourself! Take a spin class! Lose that weight! Make more money! Do better, NOW!
What would the result be if we went against this "culture of reaction and urgency" and focused on being "intentionally less productive?" It might clear our heads and give us the necessary energy boost to get through the stress of the coming year.
Everything draws in and huddles close this time of year. The cold dark days cause nature to hunker down and regroup … to hibernate and rest. And nature, as usual, is an excellent teacher.
With all that being said, how can "downtime" possibly be good for us, especially when we live in an "on the go" society, and it often feels like if we slow down, we will get passed up or even run over?
It's important to remember the benefits of flourishing that can happen when you slow down and honor the pace of the season.
Wintering, when done right, can:
1. Give you time to look ahead and prepare
Whether in life or in work, downtime gives you space to be more intentional about your decisions and thoughtful about the year ahead.
2. Allow you to look back and learn
Again, this slow time is invaluable for taking stock of how the previous year went. What would you have done differently? What can you learn about yourself from the seasons that have passed?
3. Give you Rest
Oh, how necessary this is! So many of us are overworked and tired—both physically and mentally. Take this time to pause and breathe deeply into this quiet space.
4. Strengthen your Connections
Just as plant roots grow strong and store up nutrients in winter, you can build your roots while you're wintering. Connect with people. Have a slow cup of coffee. Be intentional about taking the time to strengthen old bonds.
5. Give you Time to Learn Something New
Not all New Year's resolutions have to make us frenzied and stressed. It is possible to learn something new in a quiet and gentle way during this slow time of year. But don't set unreasonable goals. Do something simple. Start a gratitude journal. Read a book that's been on your list. But do it gently. Don't push.
"It's important to know that there's important work going on in a season of hibernating," Jameson says. "We think we're not producing. But the truth is, something IS going on in there and if we produce too early, you could end up with a mess. So, hibernation is really important."
Of course, Jameson adds, we must also remember that Seasonal Affective Disorder (SAD) is a very real and prevalent condition, which becomes more intense with the coming of the darker, winter months. And if you find yourself feeling hopeless or losing interest in activities you once enjoyed or having problems with sleep, appetite, or weight, it's important to speak to a professional and get help.
But when approached with intention, "wintering" can be an essential item in your flourishing toolkit. It may seem like cold and darkness aren't very conducive to personal growth … but like plants, we must use the time wisely. And if we do, some of our most important work can be done in this season.
"In broad terms; there is a time for everything—preparing and nourishing—and time to let it go and develop on its own," Staude says. "Be wary of extremes, either over-nourishing or being too harsh or expectant. Strike a balance and allow for independence. Remember, God has a role in it all."
Indeed, Robert Frost concurs in the final line of his poem: "Something has to be left to God."