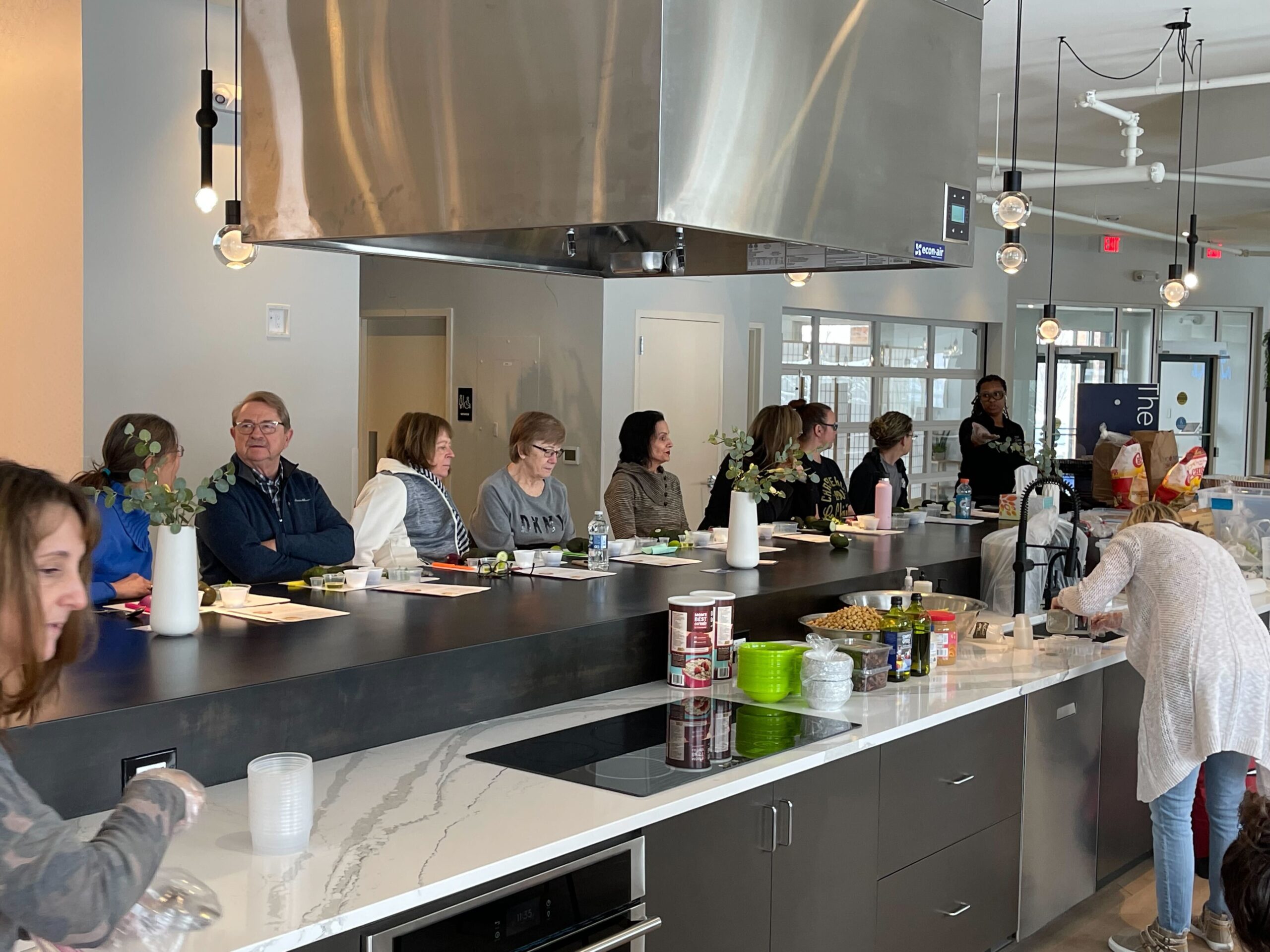 Vegan Cooking Class a Hit with Attendees
It was standing-room only at KCHP's first cooking class with Rain Truth, a vegan chef, caterer, and educator who led our guests on a delightful exploration of delicious vegan delicacies, as well as offering tips and techniques for incorporating these healthy eating habits in their daily lives. The group had a blast, shared a meal together, and learned that healthy eating doesn't have to be overcomplicated or ridiculously cost-prohibitive. This free event was open to the community. Did you miss out? There's still a chance to join the next session, which will be held from noon to 1:30 p.m. on Feb. 16, at the KCHP, 885 Badger Circle. Click here to register. https://www.eventbrite.com/e/plant-based-cooking-class-tickets-515072414457
Upcoming Events:
Yoga for Beginners: (Feb. 7, 12-1 p.m.) Try this gentle movement class no matter what level you're at. Learn to stretch, relax, and strengthen your body and mind. Bring your own mat or use one of ours! Register here.
Consumer Protection Series: (Feb. 8, 1-2 p.m.) Home Improvement Contracts: Understand the consumer protection laws in place to protect you before you pursue a home improvement contract. Learn tips for hiring a contractor and what kind of provisions are required. Register here.
The Art of Storytelling: (Feb. 9, 12-1 p.m.) Journalist Ben Merens will teach you how to share your stories and discuss why your life stories are important to keep and share along your journey. Register here.
Financial Literacy 101: (Feb. 9, 12-1 p.m.) Your financial future depends on the smart decisions you make right now. Learn about financial planning, the benefits available in your Kapco, Inc. 401(k), and improve your overall financial literacy.
Consumer Protection Series: (Feb. 14, 2:30-3:30 p.m.) Identity Theft: Protect & Prevent: Many people become victims of identity theft at some point. It's one of the fastest-growing crimes in the nation. Learn how to recognize and prevent identity theft and safeguard your personal information. Register here.
iPhone Photography Basics: (Feb. 15: 12-1 p.m.) Do you ever feel like you're all thumbs when it comes to taking pictures on your cell phone? In this workshop, you'll learn the basic principles of cell phone photography and videography with senior digital media specialist Mitchell Stewart. Register here.
Plant-based Cooking Class: (Feb. 16, 12-1:30 p.m.) In this hands-on workshop, you will enjoy a shared meal and learn basic tips and techniques to incorporate vegan cooking into your current lifestyle with Rain Truth, a vegan chef, caterer, and educator. Register here.