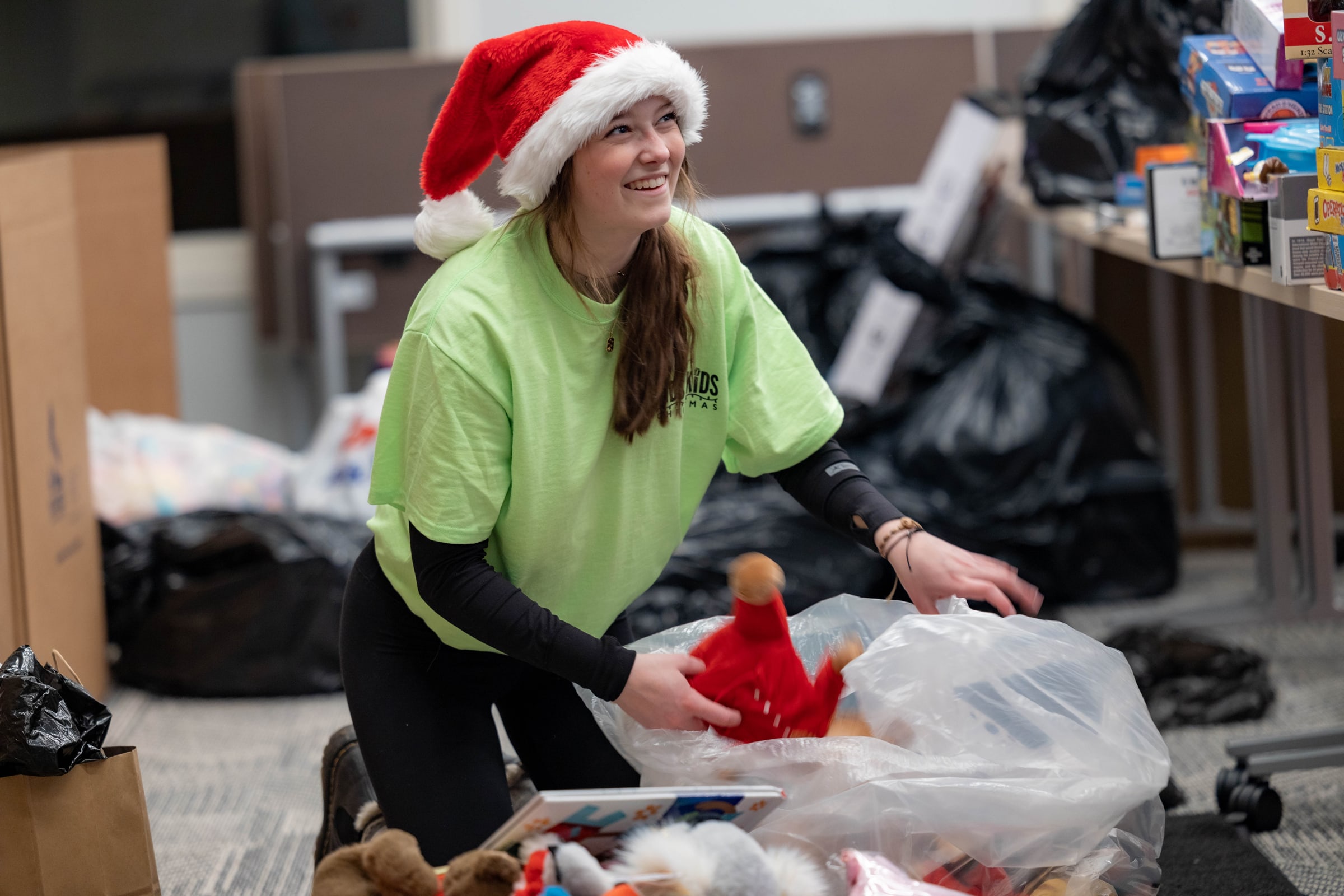 Serve others to improve health and feel a sense of purpose
When Lainey Holmes, 17, (pictured above) volunteered with Kapco's Kids2Kids Toy Drive this holiday season, there were a few reasons why the Port Washington High School junior decided to roll up her sleeves and get involved.
"I chose to volunteer and serve because I knew that I would make my own personal holiday season better by truly being a positive part of the season of giving and—more importantly—make the holiday season better for thousands of kids receiving toys from that drive that they wouldn't have otherwise had at home," Holmes says.
This Christmas was Holmes' first time working with the Kids2Kids program, but she has participated in volunteer opportunities with her 4-H club in various parts of the community, as well as the Port Washington/Saukville food pantry.
While serving as an elf for a toy drive might not be every person's cup of tea, Holmes directly experienced the positive effects of serving that are commonly felt by many who decide to lend a hand to help those in need.
In fact, giving your time through volunteering directly affects your ability to flourish by providing several perks, three of which we'll talk about here:
1. Volunteering improves overall physical and mental health
Yep, you heard us correctly. Serving others doesn't only give you a warm fuzzy feeling inside … it can actually have a tangible effect on your physical and mental health.
"I always get a sense of fulfillment whenever I participate in volunteer activities," Holmes says. "I think that the fulfilled feeling—and the new views I get on both my community and my world—lead eventually into a healthier mentality."
A Harvard study done in 2020 looked at volunteering and its subsequent effect on the health of older adults. For the nearly 3,000 participants over age 50, some astounding results were discovered when the subjects started spending a mere two hours a week on volunteer activities.1
The results of the study concluded that adults who served:
Had a 44% reduced risk of early death
Were 12% more likely to be physically active
Were more optimistic with greater purpose in life
Experienced fewer feelings of depression, hopelessness, and loneliness
In fact, Project Helping, a group that provides service opportunities with the mission to improve mental wellness by creating purpose and connection, has worked with over 160,000 volunteers and impacted over 2 million people. The group reports that 76% of people who volunteer say volunteering has made them feel healthier. And 78% say it lowers their stress levels.
It's effect on mental health is also well documented.
The Greater Good Magazine, published through the University of California, Berkeley, reported a study published in the "journal of Happiness Studies" where researchers looked at 70,000 subjects in the UK. Compared to those who didn't volunteer, those who had were more satisfied with life and felt healthier, and reported better mental health versus those who didn't take part in volunteer opportunities.
The paper claims that volunteering tends to give those who participate a "warm glow," but also "boosts our sense of social connection," which is especially vital and beneficial for older, retired participants.
2. Volunteering Gives you a Sense of Purpose
It may come as no surprise, but doing something for others often gives people a sense of purpose in their lives, which is a direct component driving your flourishing.
Project Helping reports that 96% of volunteers say the experience enriches their sense of purpose.
In a Harvard study, a sense of purpose was found to be associated with a lower rate of death from issues such as cardiovascular disease, as well as blood or digestive conditions—although "causality was hard to pinpoint."
The study described life purpose as an aim in life, with accompanying goals. This sense of purpose, according to the study, increases your likelihood of participating in behaviors that are better for your overall health. And what is one of the top catalysts, giving folks a sense of purpose? Helping others.
3. Volunteering improves your professional skills and leadership abilities
In a world where many young people would rather eat a bucket of Kale than make a phone call to order a pizza, let alone stand in front of a group of peers and give a speech, taking part in a service opportunity—or better yet, helping to organize a service opportunity—can coax a shy, nervous young person out of their shell and help them realize their own abilities.
"I strongly believe I would not be in the position I am today without the leadership skills I've gained over my short years, lots of which have sprouted from volunteer activities," Holmes says. "The majority of volunteer activities are run by adults and when you're young, sometimes you don't truly develop great skills talking to adults unless you put yourself out there.
"Sometimes even in school, classes are too big for teachers to give students proper experience in conversations with adults. But when you volunteer, you work with adults and hence build up skills in not only self-advocacy but also, in time, leadership."
Volunteering helps people of all ages flourish professionally by:
Increasing your self-confidence
Teaching you leadership skills
Helping you learn to interact with different types of people
Teaching you to work in a team
Teaching you how to take initiative and think outside the box
Helping you make connections
It stands to reason that volunteering can be a way to build your current and future professional skills and try out leadership opportunities you may not have had a chance at otherwise, which is especially useful for young adults getting ready to enter the workforce, according to Berkeley's Greater Good Magazine.
In the 2020 Journal of Happiness Studies, the magazine concurred that researchers found participants ages 16-24 and 55-74 were especially likely to benefit from service opportunities, likely because of the chance "to build social connections and new skills."
Find an Opportunity and Get Started
Regardless of how or when or even WHY you volunteer, the evidence is clear that service opportunities do nothing but good for the flourishing of those who participate.
In fact: "Doing a kindness produces the single most reliable increase in well-being [for the doer] of any exercise we've tested," Dr. Martin Seligman, founder of Positive Psychology has famously been quoted as saying.
And young people like Holmes, couldn't agree more.
"I volunteer because I know the positive impact it will have on my community and volunteering never fails to make me feel good," Holmes said. "I enjoy knowing that I'm helping good causes when I volunteer and I know that without people willing to give their time and volunteer, not much would get done around the community." 
5 Places to Volunteer in Milwaukee:
1. Kids Impact Milwaukee: volunteer with your kids to make art for the elderly or pack duffel bags for kids in foster care.
2. Groundwork Milwaukee: help tend community gardens.
3. Milwaukee rescue mission: serve meals or help collect or sort donations for the homeless.
4. Milwaukee Habitat for Humanity: help build or repair homes or volunteer at the ReStore.
5. United Way of Greater Milwaukee & Waukesha County: volunteer with your coworkers, a group of friends or family, or on your own. There are several opportunities, from mentoring to collecting diapers or other supplies for those in need.